Are you a basketball enthusiast looking to bring your game home? Transforming your backyard into a personalized basketball court can be an exciting project that not only boosts your outdoor space's appeal but also provides endless hours of entertainment. Whether you're aiming to shoot some hoops with friends, practice your jump shots, or even host neighborhood tournaments, a backyard basketball court is the way to go. Here are the top 10 backyard basketball court ideas to inspire your hoop dreams:
Click for Dominator hoop information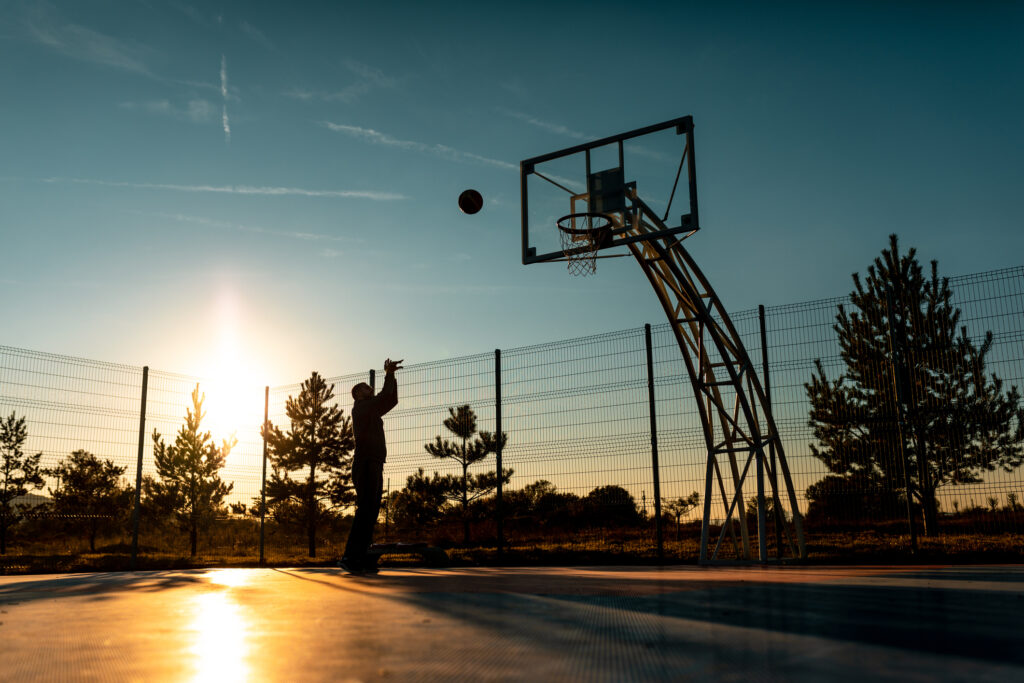 Classic Full-Court Haven
A full-sized basketball court, complete with regulation markings, forms the cornerstone of a dedicated playing area. To replicate the professional court experience, think about the installation of a top-notch backboard, ideally constructed from acrylic or tempered glass. This not only enhances the aesthetic but also adds authenticity to your court. Moreover, it's crucial not to overlook the inclusion of robust breakaway rims to ensure that your court can withstand the excitement of your basketball ambitions, whether it's a casual game with friends or some serious practice sessions.
Backyard Mini Arena
Why limit yourself to a simple hoop when you can create your very own mini arena? Imagine a court complete with stadium-style seating, professional-grade lighting, and even a functioning scoreboard, all meticulously designed to provide an immersive basketball experience that rivals the atmosphere of a real game. With this ambitious setup, your backyard transforms into a true sports destination, perfect for hosting competitive matches, tournaments, or just enjoying a game with friends and family on a grand scale. Elevate your love for basketball to a whole new level, and let your outdoor space become the epicenter of basketball excitement in your neighborhood.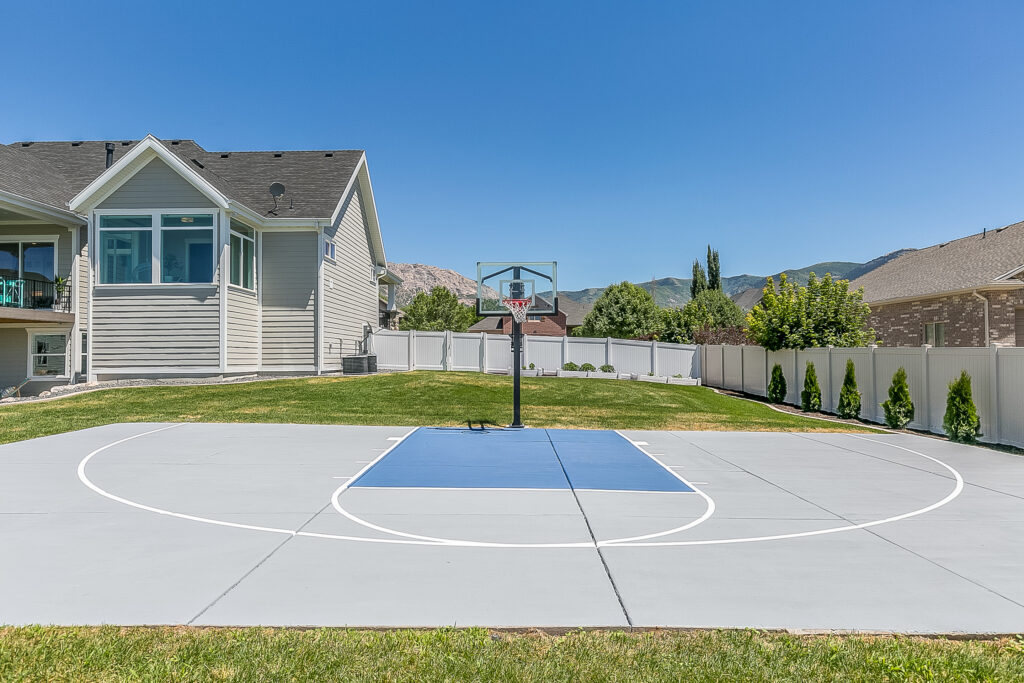 Half-Court Hoops
Craving the court experience but dealing with a compact yard? A half-court setup could be your slam dunk solution. It's like finding that sweet spot between space-saving and b-ball thrills – perfect for one-on-one showdowns or perfecting those beyond-the-arc shots without monopolizing your entire outdoor area. And hey, don't forget to bring in some outdoor lighting mojo; that way, the good times can keep rolling even when the sun takes a break. Imagine the ultimate hoop showdowns under the night sky – your backyard: where basketball dreams come alive, day or night.
Beyond the Ordinary
If you're all about the finer things in life, it's time to go all out. Splurge on top-tier materials like high-grade hardwood or interlocking rubber tiles for your court surface. This not only guarantees durability but also adds an air of sophistication to your outdoor space. To take your backyard basketball court to the next level, consider the addition of a retractable canopy or an elegant pergola. These not only provide shade but transform your basketball court into a lavish extension of your outdoor living area, making it the epitome of luxury and style.
To complete this luxurious experience, think about incorporating some plush seating and an outdoor bar or kitchen nearby, ensuring that your backyard becomes the go-to destination for friends and family gatherings, where they can enjoy both the game and the ambiance in absolute comfort and opulence.
Click for Dominator hoop information
Versatile Multi-Sport Court
Why confine your backyard to basketball when it has the potential to offer so much more? By employing some strategic design, you can establish a multifunctional sports haven. Incorporate court markings not only for basketball but also for games such as volleyball, pickleball, and even a miniature tennis court. This ingenious approach transforms your backyard into a versatile sports hub, catering to the diverse interests of your family and friends. Whether they're up for a spirited volleyball match, a fast-paced game of pickleball, or a leisurely round of tennis, your backyard will be the go-to destination for sports enthusiasts of all kinds.
Poolside Play Zone
Blend your passion for both swimming and basketball by strategically placing a court adjacent to your pool. This ingenious setup lets you seamlessly transition from shooting hoops to taking invigorating swims, culminating in the ultimate summer hangout. Picture this: perfecting your jump shot, followed by a refreshing plunge into the pool's cool waters, all within arm's reach. It's a recipe for endless entertainment and relaxation, ensuring that your backyard becomes the go-to destination for fun-loving friends and family. Click here to explore poolside basketball options.
Family Friendly Design
Transform your backyard basketball court into a family-friendly oasis where everyone can join in on the fun. Adjust the hoop height to make it accessible for younger players, ensuring safety and an enjoyable experience for everyone, whether you're 2 or 92. Go a step further by incorporating vibrant colors and playful graphics, designed to ignite a passion for the game. With a welcoming and inclusive environment like this, your backyard becomes the perfect place for family bonding and fostering a love for basketball.
Click for Dominator hoop information
DIY Paver Court
For those with a passion for DIY projects, why not embark on the journey of building your own basketball court using interlocking pavers? This hands-on option not only allows you to craft a one-of-a-kind court layout but also infuses your space with a distinct touch of your personality and creativity. With the added benefit of a sense of accomplishment and ownership, your backyard will truly reflect your unique style, and every game played on your custom court will feel all the more special. Click here for source of DIY Paver Court.
Nighttime Glow-in-the-Dark Court
Take your backyard court to a whole new level by adding glow-in-the-dark paint or markings. This ingenious touch turns your court into an enchanting nighttime wonderland, perfect for shooting hoops under the starry sky and experiencing a whole new level of excitement. With the added benefit of improved visibility and a dash of magic, your basketball games will take on a thrilling dimension that's sure to captivate players of all ages.
Remember, your backyard basketball court is a canvas for your creativity and passion for the game of hoop. Whether you're a serious athlete or just want to have some casual fun, these ideas can help you design the perfect outdoor court. So, grab your basketball, invite your friends and family, and get ready to enjoy countless hours of hoops action right in your own backyard!