Select Your Basketball Hoop
Rust Proof
Made of 6061 T6 Aluminum (Same Material used in Automotive, Aircraft, and Watercraft Industries)
Aluminum Prevents Rust and Enhances Strength
All Hardware is Stainless Steel
NBA Quality and Regulations
Official NBA/NCAA Regulation Standards
Aluminum Flexes Under Impact Making the Performance Better than a Steel Basketball Hoop
Brings a "True Arena" Shooting and Dunking Experience to your Home
Designed to Replicate an Indoor Gym Basketball System
Quick & Easy Adjusting
7 Easy Cranks to get from 7 to 10 Feet
Hoop Adjusts Straight Up and Down Unlike any other Basketball Goal
Distance from Rim to Free Throw Line Never Changes – No Matter the Height of the System!
Aluminum Build Makes it Effortless to Adjust
Easy Installation
Only has 4 Pieces (Main Post, Overhang Arm, Backboard, and Rim) Making for a Simple and Quick Assembly of the Goal
Entire System only Weighs 400 lbs. – Most Basketball Goals weigh 750+ lbs.
Easy to Follow Step by Step Installation Guide Makes for a Smooth Installation Process
Looks amazing and great curb appeal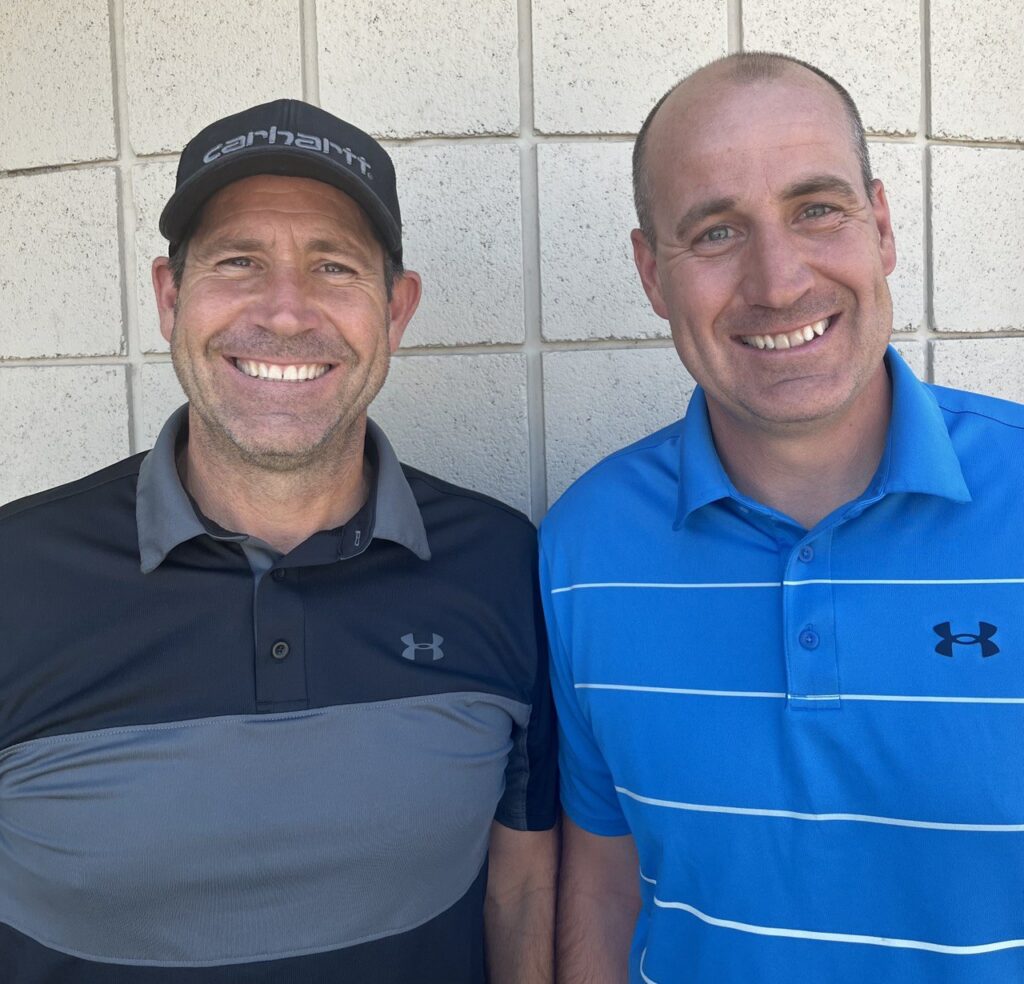 Meet Dominator
Dominator was founded in 2014 in Lindon Utah by Bryce and Brandon Doman.
Bryce is a successful entrepreneur responsible for the Weigh Safe Hitch and Landecor outdoor products.
Brandon was a quarterback for the San Fransisco 49ers and later the Quarterback Coach Offensive Coordinator for Brigham Young University.
Together, Bryce and Brandon have grown this company with the singular mission of creating the best basketball hoop on the planet.
Basketball at home was a growing experience for us. Our backyard was heaven on earth. We learned about hard work, determination, how to deal with losing, and how to work on a team. Competition was so important for us growing up. Not only did it strengthen the relationship between us and our brothers, it also helped to develop skills and mentality. Plus it helped us to stay in shape! 
These days it is so important to get out and play together. We can get too caught up staring at our screens that we miss out on the opportunity to get outside. There are some things that can't be learned from a video game. As parents, it is important to set aside time for your kids to get outside and play with each other. You will see the value that sports brings to the home. A simple adjustable basketball hoop can be an important addition to you home court. A basketball system provides a great way for families to get together and play.
What Customers are saying
We love our Dominator Hoop!
Not only is it the coolest looking hoop, we love the peace of mind in a lifetime warranty, it is super easy to set-up, even our small children can adjust the height. So easy! So Cool! Plus, we love the Pickleball extension. I would recommend Dominator over and over again!
– Ryan R
BEST DRIVE WAY BASKETBALL GOAL IN EXISTENCE!!
I have had several, expensive in-ground and portable basketball goals over the past 10 years. It is clear that the designers of this goal took no shortcuts and made the perfect driveway basketball goal that will last for years. I read more about review stating BEST DRIVE WAY BASKETBALL GOAL IN EXISTENCE!! It looks amazing and the kids love it…even the ones that don't even like basketball cannot resist.
– Brady P
Fantastic Quality!
We are very happy with our 60" Dominator Adjustable Basketball Hoop. Fantastic quality, excellent height adjustment and unparalleled customer service! This is one fantastic product and we would recommend it for anyone looking to get a hoop for their home…..this one will withstand the test of time!
– Carrie B
Ready to Buy a Dominator?