If you have a love for basketball, you've probably thought about building a court. Owning a basketball court is super convenient and adds another layer of enjoyment for the game. The central question becomes: How much does it cost to build a basketball court?
The answer depends on several factors, including:
Court size
Surface type
Indoor vs. outdoor courts
Labor
Materials
Flooring
Basketball Hoops
This blog post examines all the variables that influence the costs of a basketball court so you can keep your love for the game alive.
How Much Does a Basketball Court Cost?
It depends. You need to consider the factors that can influence the total price. Let's discuss the variables brought up earlier in more detail.
Basketball Court Size
Building a basketball court begins by determining the size you need. The standard full-size court dimension for an NBA basketball game is 94 feet x 50 feet (4,700 square feet). However, you don't need a full-size court to enjoy the game.
A small court (30 x 30 feet) costs anywhere from $3,300 to $15,000. The average costs for half-courts can be as low as $8,600 to as high as $38,000. Finally, if you're building a full-size court, estimates fall between $17,200 to $76,000.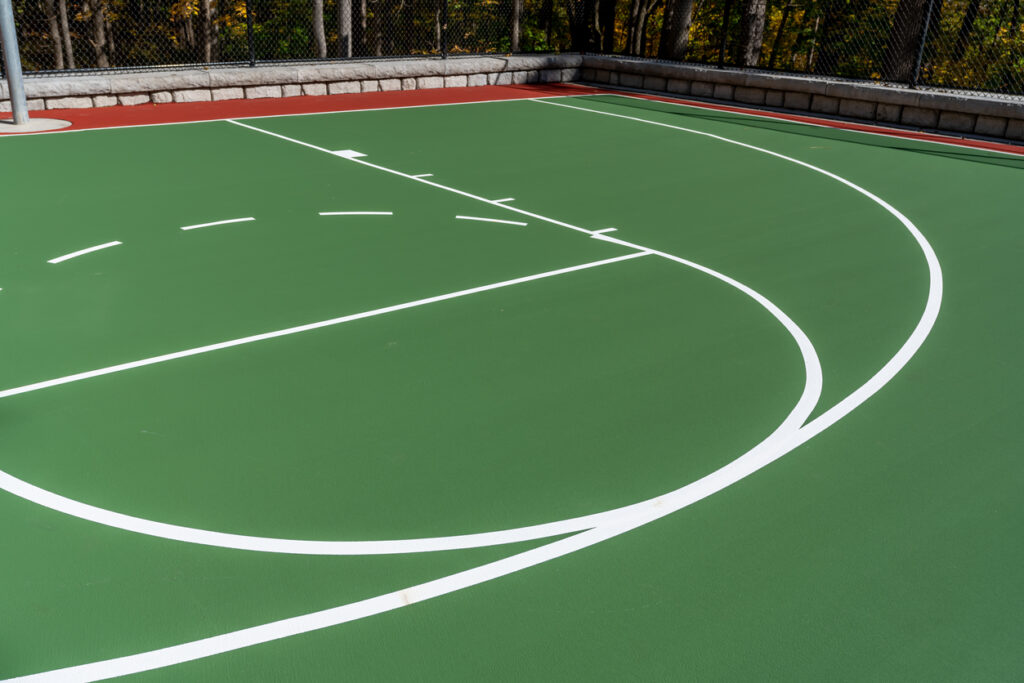 Court Surface Type
You have a handful of surface types to choose from. Some of these are suited for indoor and outdoor courts, while others are appropriate for one or the other. Choices include:
Asphalt (Outdoor): Made from fine sand and oil, asphalt surfaces cost between $2,700 and $6,300.
Hardwood (Indoor): This popular indoor court surface is made with dense wood fibers. General estimates range from $5,400 to $13,500.
Rubber (Both): These surfaces are popular for their high durability and ability to withstand harsh weather conditions. Expect to pay between $3,600 and $15,300.
Multi-Sport Surfaces (Both): Multi-sport surfaces are exactly what they sound like: surfaces used for multiple sports. Average estimates can be as low as $12,400 to as high as $80,000 for a full-sized court, though this number changes depending on the surface material.
Remember, selecting the ideal playing surface depends not just on budget but also on your personal preferences. Pick what suits you the best.
Indoor vs. Outdoor Courts
The cost of constructing an outdoor basketball court varies from $4 to $16 per square foot. However, exact estimates depend on dimension and size. For instance, backyard basketball courts measuring 30 x 30 feet can cost between $3,600 and $14,400.
Indoor basketball courts have various price estimates, but most fall within $3.50 to $17 per square foot. Whether you build an indoor or outdoor court, the exact costs depend on the materials you select and the labor you use.
Labor Costs for Court Preparation
The labor cost of setting up an outdoor basketball court often takes up a significant portion of your total budget. You'll need professionals to level the land, pour concrete, prepare for drainage, and install new pathways, and that's just the beginning. A full basketball court's labor costs range from $1,000 to $4,000.
You can save yourself the burden of investing in hiring someone for labor by doing some of the work yourself—if you have the skills to do so. Just ensure you have a strong grasp of each task before undertaking the project yourself. If not, you'll end up spending more than you need to.
Basketball Court Materials
Are you using concrete or asphalt? What about snapping tiles? Placing asphalt on a full-sized basketball court costs $14,000 to $18,000. For concrete, you're looking at between $15,000 and $45,000. Polymeric rubber is another option. However, you'll be paying more, up to $25 per square foot.
Do you want rubber tiles? Expect between $4 and $17 per square foot. The good news about rubber tiles is that they work well for indoor and outdoor courts.
Indoor Court Flooring
You'll need to account for flooring material for an indoor basketball court. If you want maple hardwood, that will cost around $3.50 to $6 per square foot. Alternatively, you can opt for a concrete slab. If you add an epoxy floor coating to protect the concrete, then you'll pay an average of $6 per square foot.
Basketball Hoops
You can't have a court without hoops. Exact estimates fluctuate depending on the type and material used. For standard hoops, you might pay anywhere between $50 and $250 for installation. Do you want portable hoops? Those cost about $140.
Keep in mind that several factors come into play here when determining hoop costs, including:
Materials (steel vs. acrylic backboards)
Rim type (breakaway vs. fixed)
Thick vs. thin poles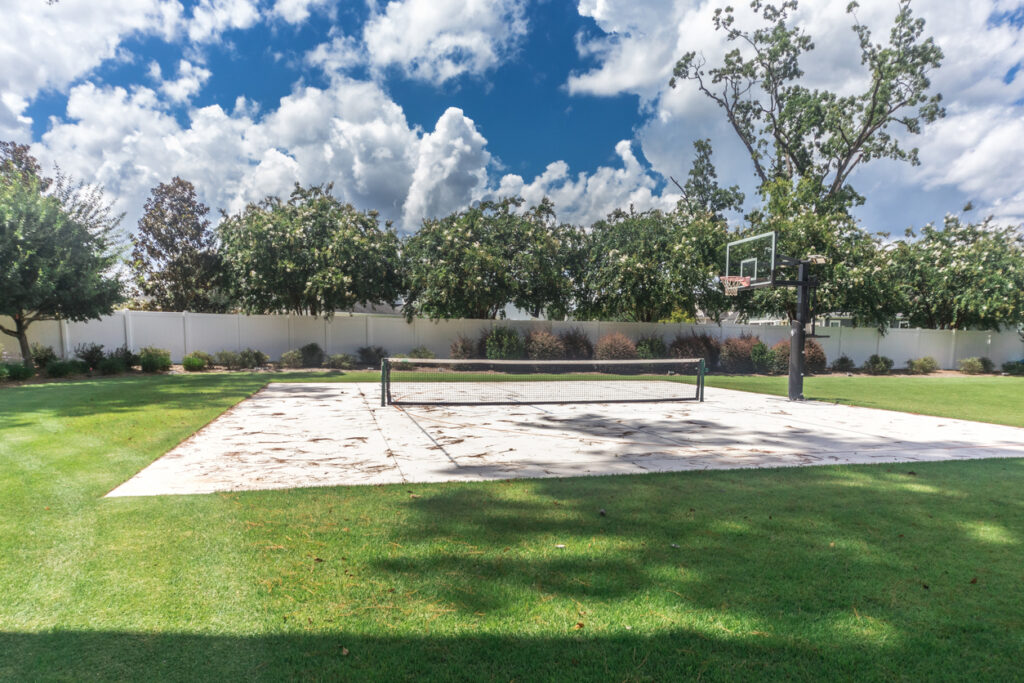 Maintenance and Repair Costs
The long-term costs to build a basketball court include maintenance fees over the years. Basketball courts require regular upkeep to ensure their longevity and durability. Here's what you need to know.
Long-Term Expenses of Owning a Basketball Court
Besides routine upkeep, unexpected repair costs may occur due to weather damage or wear and tear over time. We recommend setting aside an annual budget for these eventualities before it's too late.
Resurfacing and Repair Costs
Courts often need resurfacing every five years, depending on usage. This helps ensure player safety by maintaining optimal traction levels on the surface. If you resurface asphalt, expect to pay around $2,900. Concrete damage will run you between $300 and $3,500 per project.
Additional Features and Accessories
How much does a basketball court cost? In addition to the factors listed above, think about additional products and accessories you want for your court. The more accessories you want, the higher the overall price will be. Here are some premium accessories to consider.
Rebounder Net
A rebounder net helps you practice shots without chasing the ball. The cost depends on size and quality but is usually pretty affordable, from $40 to $240.
Lighting and Fencing
Lighting is a significant factor if you decide to play with your friends after sunset. Expect to pay as much as $200 for each lighting source. Enclosing your court in fencing costs between $1,600 and $4,000. Browse through our Dominator lights for the perfect nighttime lumination.
Pole Barn
A pole barn is a type of post-frame construction most commonly used for garages, house barns, and office space. However, you can also use them for basketball courts. Costs add up substantially, with average estimates between $8,000 and $20,000.
3 Affordable Ways to Build a Basketball Court
A tight budget doesn't mean you can't figure out the bare necessities to make your hoop dreams a reality. Here are three solutions for building a court without making a substantial investment that leaves you in debt.
Select Affordable Surface Types
If you want affordable surfaces for a court, choose polyurethane. It's inexpensive, durable, and provides an even surface for players. Not to mention, polyurethane floors are easy to clean and maintain, saving you the financial headache of spending on unnecessary repairs.
Asphalt surfaces are another alternative if you want to minimize court expenses. The one thing to consider with asphalt is they're prone to chipping and cracking.
Use Laminate Flooring
Opt for laminate courts on an indoor basketball court. Made of synthetic fiberboard, these floors only cost around $3 to $11 per square foot, and the installation process is quick. Cleaning is simple, and they have a higher impact resistance than any hardwood floor.
Do Some of the Installation Work
Doing some of the work yourself can save you the trouble of hiring contractors or specialists who will charge a substantial fee to build your basketball court. Identify simple installation or prepping tasks you can complete without professional assistance.
For example, you can paint court markings instead of hiring a professional painter who will charge you anywhere between $200 and $6,000. Additionally, if you're building a concrete court, you can save significant money by digging out the space yourself and then hiring a concrete contractor.
Get Equipped with Dominator
How much does it cost to build a basketball court? There are too many factors to give a single estimate. You have to account for surface types, the extent of your labor, and the materials you will use to complete your project. However, no matter how much you spend on your court, you'll need the right hardware to get started. Dominator can help with that. Look through our hoop catalog and find what you need to build the court you've always wanted.